January 25, 2023
Interior Design Trends for 2023
Spring 2023 is upon us, and with it comes all sorts of new trends in home design. Design hasn't changed much over the past 5-10 years, but we are suddenly seeing a slurry of interior vibe changes for 2023. If you're looking to spruce up your home this season or preparing for your colors appointment, here are the top design trends and upgrades to consider for your home. These trends are all brand new and will likely not fully saturate local style for the next 5-8 years. Please note that many of these are upgrades for your Enchanted Home are not offered as standards. Ask your agent to for a price request if you are interested and it is available for your home.
Photo from an Enchanted Elite Home
Natural Materials: Natural materials such as stone, wood, and bamboo are becoming increasingly popular in interior design. Natural materials bring a sense of warmth and connection to nature since they bring the outside in. 
For your home, instead of an accent color wall, try painting an entire room in a light, beige limewash finish that will be found everywhere the next 5 years. Limewash is a great DIY project. 
Photo from Havenly.Com
Beige tones: Grey tones have ruled the paint scene the past 5-10 years. As with everything, we have cycled back around and every interior designer is picking warm beige and brown tones. If you are unsure about this change, one can never go wrong with white. Although it feels sterile before move-in, the pieces you love and have collected through the years will stand out and show your style!
Buyers are reaching to light toned wood stains for cabinets, flooring, and choosing warm paint colors.  
Photo from an Enchanted Elite Home
Countertops: 10 years ago every kitchen was decked with pure white quartz and white cabinets. Interior designers are now branching out into darker toned, veined, and natural stones to add texture and interest. This corresponds with the trending of natural materials. 
If you are choosing a granite, don't be afraid of a dark countertop granite as it is very much on trend and creates a sense of warmth and interest to your wet spaces, -not to mention it hides dirt so much better than its white counterpart.
Photo from an Enchanted Elite Home
Wood Finishes: Painted white cabinets are still VERY popular, but we are beginning to see a resurgence of natural wood stains in the kitchen. The orange-toned stains are still avoided, but natural, light wood that is nearly whitewashed and dark brown tones are becoming increasingly popular. As with the paint colors, buyers choosing grey-toned wood finishes are also quickly diminishing. 
Photo from Havenly.com
Grandmillenial Decor: You may have heard that Generation Z is bringing back Y2K fashion from butterflies to chevron print. Interior designers are also seeing this Y2K inspiration in the home with the resurgence of the grandmillenial decor - think floral patterns, granny-chic, sophisticated antiques, china plates, and patterned wallpaper. Luckily, these elements have been updated with more modern elements such as neutral wallpaper patterns, solid upholstery, a lack of Nic nacs, and more streamlined hardware.
You can save some money with this trend by searching marketplace or your local antique store for a classic antique piece rather than ordering something new. If you are looking to furnish a room, avoid 3 and 5-piece sets and choose unique, individual pieces you love to create interest and give your home a 'collected" feel.
Photo from StudioMcGee.com
Color: Along with the move away from grey, designers are incorporating a ton of color into their designs. Say hello to adventurous, deeper, & moody hues.
To keep it modern and classic, choose an ocean-hued tile in a bathroom, or paint a half-bath- ceiling and all- in a soft mauve tone. If you are feeling adventurous and want a high-end look, go for a differing tone trim such as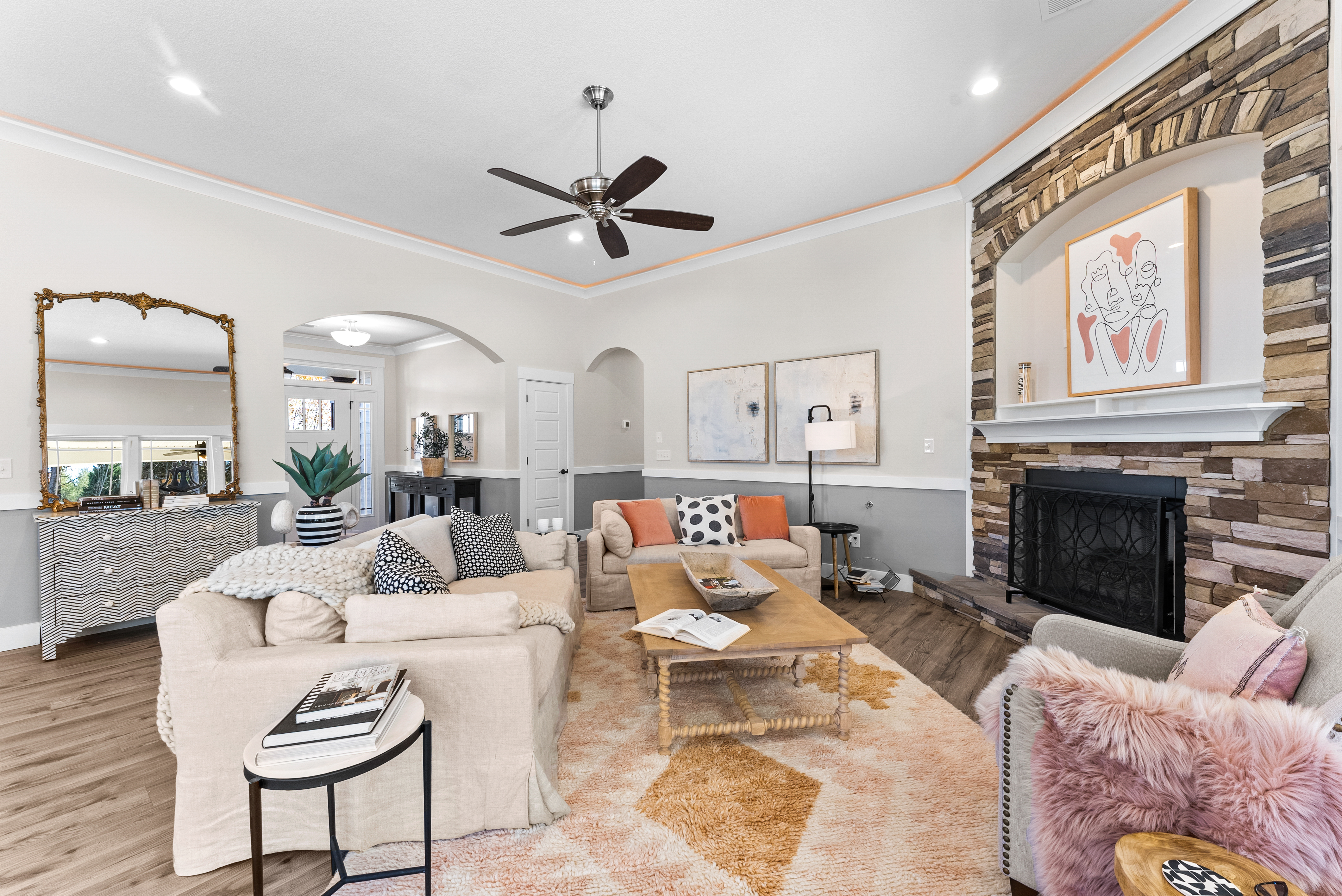 Photo from Enchanted Homes Series 6 Home
Curves & Arches: Arches are arguably a classic architectural accent, but designers are incorporating them everywhere from doors to shower niches. Enchanted actively includes these accents in many of our portfolio floorplan designs. 
If you have many square accents in your home try swapping in a round swivel chair or an arch-top mirror.
Wallpaper: Love it or hate it, wallpaper is back in style and it's here to stay.
 If you like the fun interest, but aren't ready to commit to the inevitable future removal in 10 years, try one of the many peel-and-stick styles available online!
Photos from Enchanted Series 6 Homes
Convenience Factor: The pandemic had an unavoidable impact on home trends: Buyers are looking away from the open-concept floorplans to opt for more privacy, seeking home offices more than ever, and adding more features to make life convenient.
 Enchanted has seen this in the form of buyer upgrades like double shower faucets in a single shower to the incorporation of USB outlets across the home. In addition to buyers choosing more closed-concept floorplans, flex spacing for home offices or home gyms is popular. 
Photo from and Enchanted Series 6 Home
Talk to your agent to see what upgrades and floorplan options would be best for your family and lifestyle.